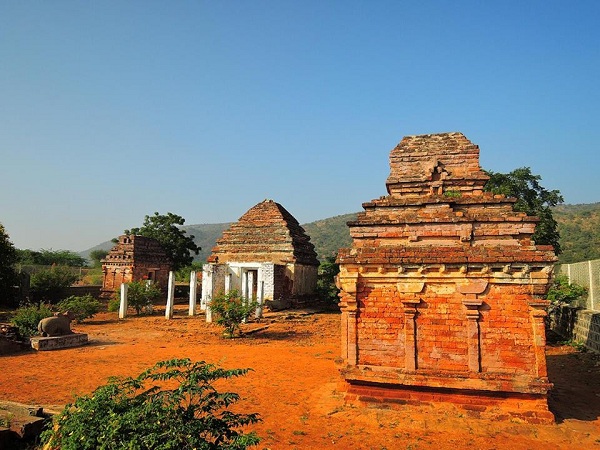 WITH ENGLIH TEXT
Pittikayagulla è un piccolo villaggio che si trova a sud di Markhapur, a pochi km da Cumbum, Prakasam district (India). Un km fuori dal villaggio, situato in posizione panoramica su una collinetta da cui si gode la vista splendida della campagna, sorge il PITIKESWARA GROUP OF TEMPLES.
Pittikayagulla is a small village located south of Markhapur, a few km from Cumbum, Prakasam district. A kilometer outside the village, located in a panoramic position on a hill where you can enjoy the beautiful view of the countryside, is the PITIKESWARA GROUP OF TEMPLES.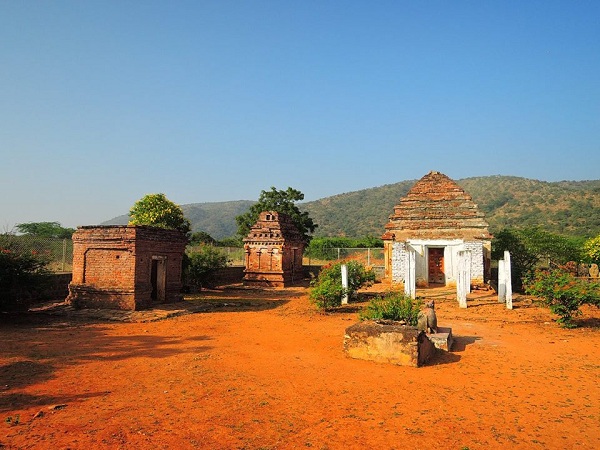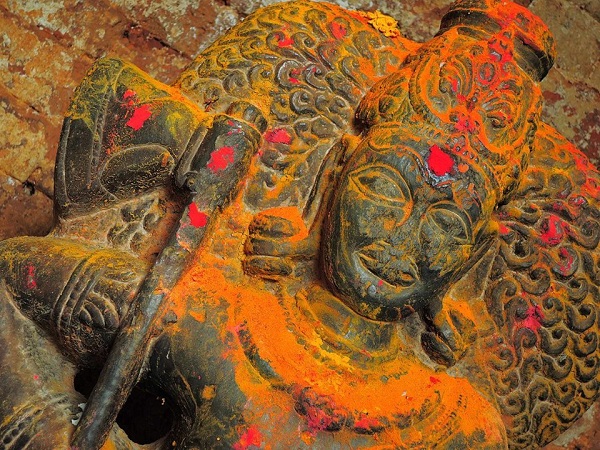 Gruppo di templi composto da tre santuari dedicati a Pittikesvara, Saptamatrika e Chandikesvara, e da un altro tempio absidato dedicato a Ganesa. Group of temples consists of three shrines dedicated to Pittikesvara, Saptamatrika And Chandikesvara, and another temple apse dedicated to Ganesa.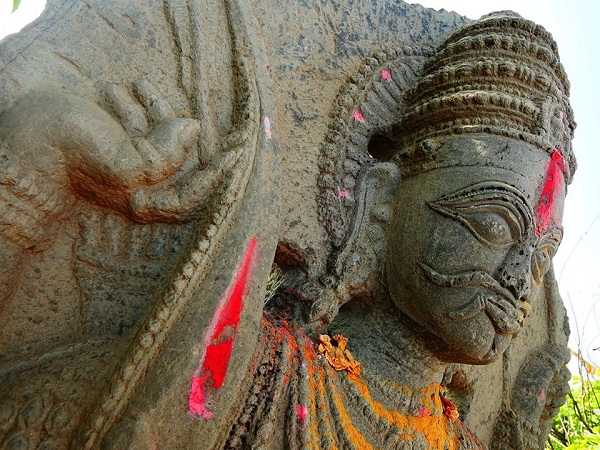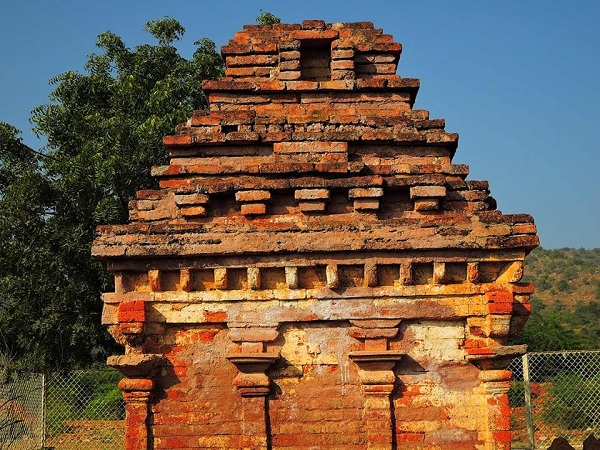 Tutti i templi sono fatti di mattoni e sono famosi per le loro adhistanas scolpite con lesene e piccoli capitelli, una caratteristica derivata dallo stile dei templi post-Gupta. All the temples are made of brick and are famous for their adhistanas carved with pilasters and small capitals, a feature derived from the style of the post-Gupta temples.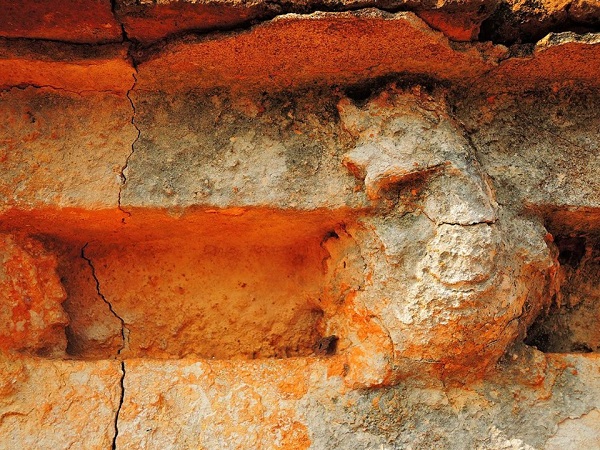 Un'iscrizione incisa su una pietra ci dice che l'opera fu fatta eseguire da personaggi Telugu del settimo – ottavo secolo, per cui si desume che siano stati costruiti durante il regno Chalukyan. An inscription engraved on a stone tells us that the work was commissioned by the characters of Telugu seventh-eighth century, so it follows that they have been built during the reign Chalukyan.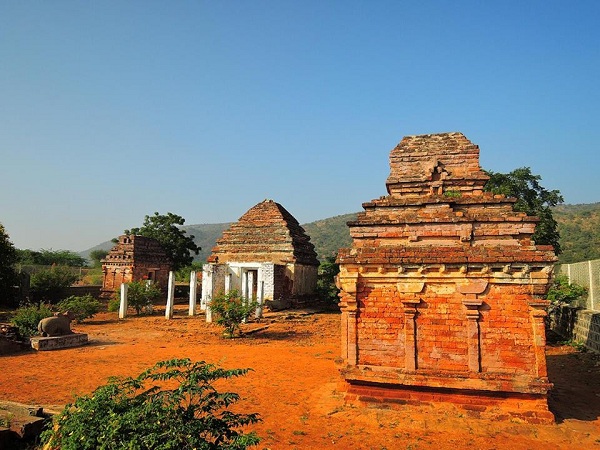 Praticamente uguali nella struttura, con un notevole spessore del muro, tutti i templi sono di mattoni e sono stati intonacati parecchie volte perchè lo strato di pittura bianca è notevole. Virtually identical in structure, with a considerable thickness of the wall, all the temples of brick and were plastered several times because the layer of white paint is remarkable.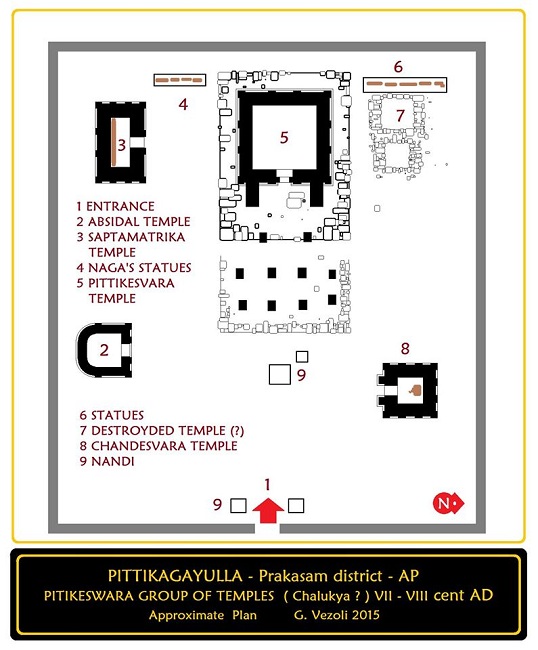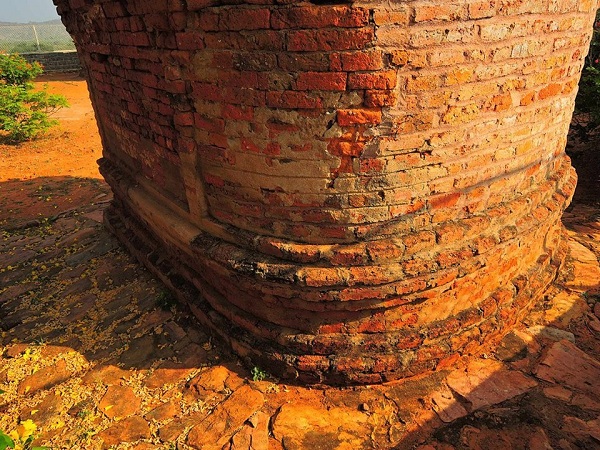 Interessante un tempio absidato, purtroppo privo di copertura, che si dice fosse dedicato a Ganesa. Interestingly a temple apse, unfortunately without cover, which is said to be dedicated to Ganesa.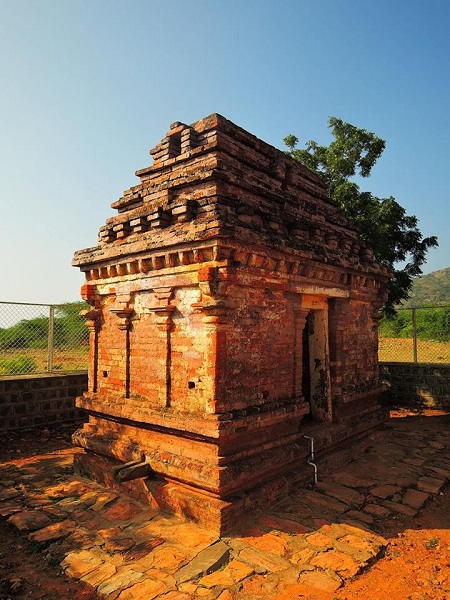 SANTUARIO SAPTAMATRIKA – Si tratta di un piccolo santuario rettangolare a cella unica, destinato ad ospitare il lungo pannello Saptamatrika. Il tetto è phamsana ed è interessante vedere lo sviluppo dei mattoni che, giocando con pieni e vuoti, sottolineano l'andamento di modanature, capitelli e lesene. SAPTAMATRIKA SANCTUARY – It is a small shrine rectangular single cell, to house the panel along Saptamatrika. The roof is phamsana and it is interesting to see the development of brick, playing with full and empty, underline the trend of moldings, pilasters and capitals.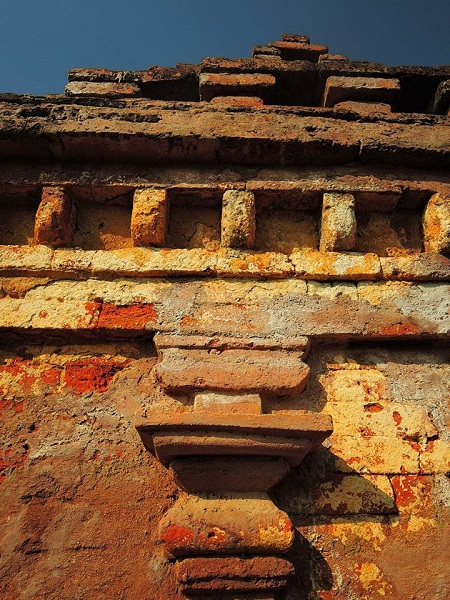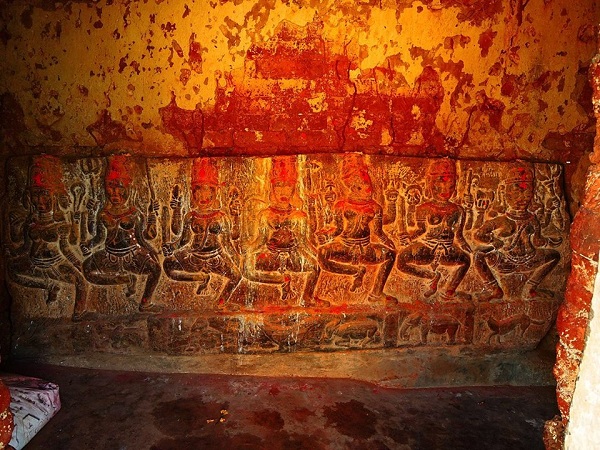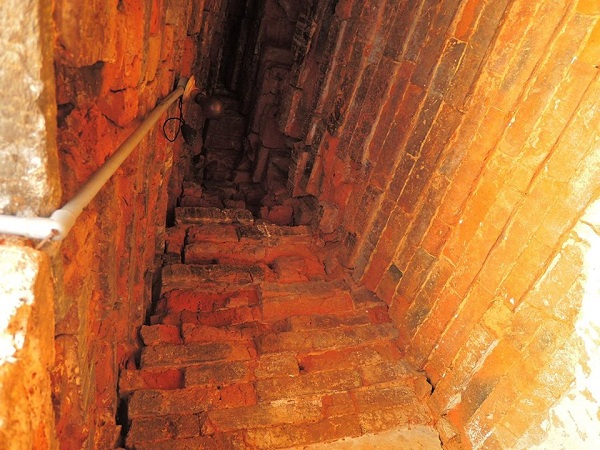 Bello il degradante avvicinarsi delle file di mattoni del shikara viste dall'interno del tempietto. Nice degrading approach of rows of bricks of shikara views from inside the temple.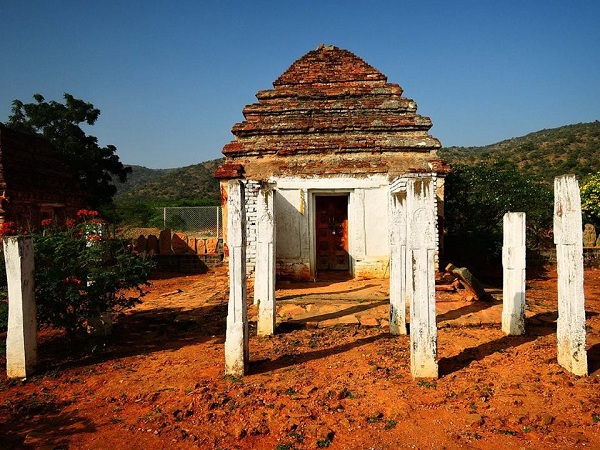 PITTIKESVARA TEMPLE: Questo tempio, orientato ad est, è il più grande del gruppo e contiene un linga di basalto nero. Il suo sikhara è phamsana, costruito a livelli spioventi. PITTIKESVARA TEMPLE: This temple, facing east, is the largest of the group and contains a linga of black basalt. His sikhara is phamsana, built in levels sloping.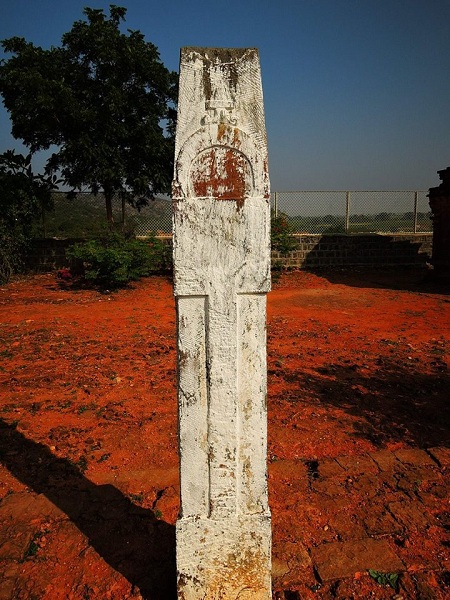 Sembra che la mahamandapa (sala), segnalata dai pochi pilastri rimasti, sia stata aggiunta in un secondo momento. Comunque per terra si vede il perimetro del vecchio pavimento che girava intorno alla mandapa che doveva essere chiusa. It seems that the mahamandapa (room), reported by the few remaining pillars, has been added at a later date. However the ground you see the perimeter of the old floor that ran around the mandapa which had to be closed.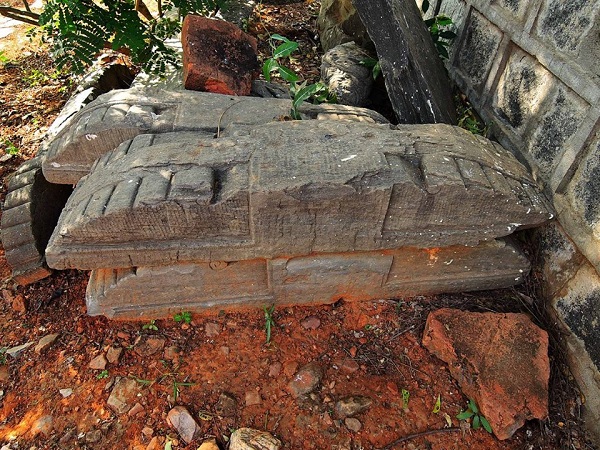 Alcuni capitelli sono raccolti in fondo al cortile e sono del tipo basso a cappette arrotondate tipiche dei Pallava. Some capitals are collected in the bottom of the courtyard and are of the lower caps rounded typical Pallava.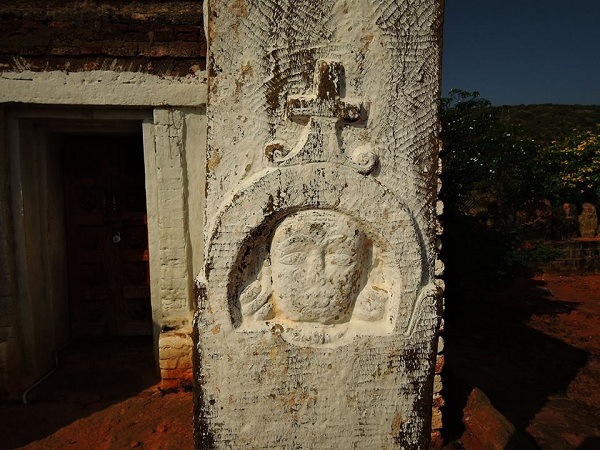 Archi chaitya, con inserita una testa umana, sono scolpiti sui pilastri del mahamandapa e molti di essi hanno un Siva linga a forma di croce scolpito nella parte alta. Chaitya arches, with inserted a human head, are carved on the pillars of mahamandapa and many of them have a Siva linga-shaped cross carved on the top.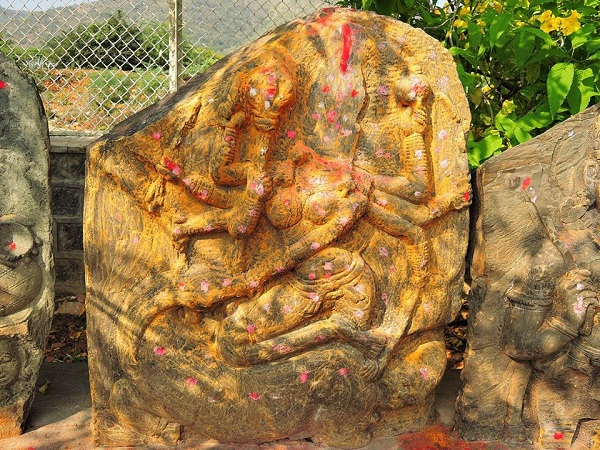 Ai lati del tempio più grande ci sono due balaustre su cui sono stati disposte parecchie sculture, a sinistra c'è una fila di Nagas, mentre a destra ci sono varie divinità tra cui una lastra con Saptamatrikas. On either side of the larger temple there are two balustrades on which were arranged several sculptures, to the left there is a row of Nagas, while on the right there are various deities including a plate with Saptamatrikas.
Pittikayagulla, fra i meravigliosi templi indiani
(per scorrere gli altri reportage dall'India, o dal mondo, visitate la pagina oltre il Salento)